Last Updated: 2019-06-08 21:35 UTC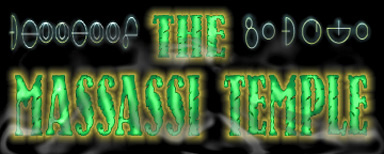 | | |
| --- | --- |
| Screen of the Day | Level of the Week |
| Archives | |
BTW: Massassi is the best web site in the history of the universe! - Otterbine
Announcing Jedi Knight & MotS 3D Preview - Brian @ 2:34 pm

Thanks to a very generous contribution to Massassi by Stephan Reiter, all our Jedi Knight and Mysteries of the Sith level pages now feature a 3D Preview! This lets you poke around the levels in 3D without having to load the game. In fact, you don't even have to have the game installed.

Stephan has made the code open source so anyone can contribute and/or use it on their own. The code can be found here: jkview on Github.

Here's an example of the 3d preview in action: MLP3.
New Jedi Knight Single Player Level: Take-Off: Destiny of Alderaan 2: The Sole Jedi - Brian @ 10:14 pm

File: Take-Off: Destiny of Alderaan 2: The Sole Jedi
Author: FastGamerr
Description: As the last Jedi on Alderaan, eliminate the Imperials in the area to escape the planet before its destruction. NOTE! When playing on the Hard difficulty, the human enemies will be stormtroopers with raildets. Cheers!


Wednesday, August 15, 2018
Nikumubeki and Eversor Asked For This - Brian @ 8:33 pm

Nikumubeki asked me to copy over some old stuff to the Massassi server. And Eversor demanded I update the main page. Here it is.

SINE - Screenshots of a level Sine_Nomen was working on before his computer crashed and everything was lost :(
JKL2OBJ - I'm not familiar with this, but the included tutorial video indicates that you can take a gob file and export the whole thing (jkl, referenced 3dos, textures, etc.) as an .obj file which can be used in 3dsmax
Sunday, December 11, 2016
2016 Holiday Logo Contest - Brian @ 9:43 pm

As has been an (almost) annual tradition since 1998, we are now running the Massassi Temple Holiday Logo Contest. Add your submission to the forum thread and it will be uploaded to the 2016 Holiday Logo list and will soon be rotated on our main page (and maybe the forums). I've always appreciated the work and creativity put into these logos and I'd love to see what everyone comes up with this year! Thanks as always.
Level Comments and Ratings are Back! - Brian @ 10:30 pm

You should now be able to once again leave comments and ratings on the level information pages. This requires a Massassi account. All old accounts still exist with the old passwords. At this point there is no way to change your password, reset your password, or retrieve your password. I'm working on change and reset password but it will probably be at least another week. However, the only thing we ask for is a username, email address, and password so please feel free to register a new account if you can't get into your old one. Or contact us and I can figure out a way to let you back into your account.

Please start by playing and leaving feedback for the Death of Massassi Level Pack. I'm sure the authors would appreciate it!
Star Wars Humble Bundle II - Brian @ 9:25 pm

If you want some cheap old Star Wars games check out the Star Wars Humble Bundle II. It doesn't have Dark Force, JK, or MotS (the first one did) but some of the games look like they're worth checking out. Forum thread has some discussion as well.
Level Comments/Ratings - Brian @ 9:22 pm

I was hoping to have the level comments/ratings back up this weekend but it doesn't look like it's going to happen. I have a few more things to clean up first. Hopefully next week. Sorry for the delay!
Wednesday, February 24, 2016
Death of Massassi Level Pack Released! - Brian @ 11:12 pm

I am happy to announce the Death of Massassi Level Pack! This is a set of levels submitted as part of the Massassi Level Pack: The Epilogue? forum thread. Big thanks and congratulations to all authors, contributors, and beta testers.

Unfortunately the level comments & ratings are still down so please leave (constructive and/or positive) feedback on the forums instead.
New Jedi Knight Single Player Level: Life of Grismath - Brian @ 11:04 pm

File: Life of Grismath
Author: Josh Stickler (Grismath) and Daniel Wilkes (Thrawn[numbarz])
Description: In 1997, we learned that we're not alone in the galaxy; this discovery changed the course of history and thrust humanity onto the galactic stage. And what a weird galaxy it is. After a variety of adventures, Grismath left Earth many years ago and has been roaming the galaxy. Now 68 years old, he must come to terms with his own mortality and think about his legacy.


New Jedi Knight Single Player Level: TODOA 2- Duel at Belga Jer - Brian @ 10:45 pm

File: TODOA 2- Duel at Belga Jer
Author: Nikumubeki
Description: Only one fortress remains in the way of total Imperial control over the planet of Belga Jer. Home to a senile Jedi fugitive known as Yerkov, his capability for Battle Meditation still poses a threat to Imperial forces on the planet. Put an end to his pathetic existence.


New Jedi Knight Single Player Level: Take-Off: Destiny of Alderaan - Brian @ 10:38 pm

File: Take-Off: Destiny of Alderaan
Author: FastGamerr
Description: Make your way to the Moldy Crow to escape Alderaan before its destruction.


New Jedi Knight Single Player Level: Magrucko Daines and the Vertical City - Brian @ 10:34 pm

File: Magrucko Daines and the Vertical City
Author: Goit
Description: An Imperial Defector has requested a rendezvous with Magrucko Daines at the 'Vertical City' of Nar Shaddaa.


New Jedi Knight Multiplayer Level: Dash's Place - Brian @ 10:21 pm

File: Dash's Place
Author: Dash_rendar
Description: Come have a drink. This is a sprawling multiplayer level set in a city.


Monday, February 22, 2016
Death of Massassi Level Pack Submissions Are Due - Brian @ 10:48 pm

If you have a level for the Death of Massassi Level Pack please submit it right away. I'm going to be posting the submissions tomorrow evening.
Submission Instructions Updated Again - Brian @ 10:45 pm

I updated the submission instructions again. They now have a way to get to the main email address for the Massassi Staff (which is currently just me). This should help make it easier to submit (and reduce reliance on vbulletin, ugh).
Saturday, February 20, 2016
Submission Instructions Updated - Brian @ 12:23 am

I updated the submission instructions. If you have something you'd like to see on The Massassi Temple, head on over to learn how to submit it.

Soon I will start posting level/map/mod submissions again. Most of the other things we have historically posted (3dos, mats, cogs, etc.) don't get used often and are a pain to update so I'm probably not going to update those sections.
Friday, February 19, 2016
Level Downloads Fixed - Brian @ 11:23 pm

Level downloads are fixed. Please let me know if you have any problems. Best way to contact me is to use the contact us page on the forums. The email address linked on all my posts here is no longer valid (replace the .net with a .com and it will work, though).

I'll also be updating the submission instructions this weekend.
Level Downloads Broken - Brian @ 3:42 pm

Brandon let me know that level downloads are currently broken. This is simply an oversight on my part when I moved the server over. I will fix them this weekend, sorry for the issue.
---
© Copyright 1998-2016 Brian E. Lozier and Contributors
Nothing on this site is made, distributed, or supported by LucasArts Entertainment Company or Disney. This site was created by and is maintained by fans of Star Wars and Star Wars gaming. Use and download all information/files at your own risk.