Last Updated: 2021-09-17 18:32 UTC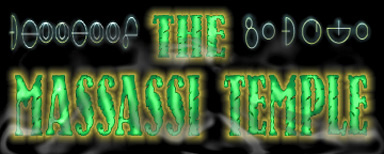 | | | |
| --- | --- | --- |
| Screen of the Day | | Level of the Week |
| Archives | | |
BTW: Massassi is the best web site in the history of the universe! - Otterbine
Friday, September 17, 2021
New Dark Forces Editor WDFUSE 2.6 Beta - Brian @ 11:32 am

karjala on DF-21 announces that WDFUSE 2.6 Beta is now available. This is a level editor for Dark Forces 1 and now works on modern systems and sports a 3d preview, among a myriad of other improvements. The post has a lot of background information so please take some time to read through it!
Wednesday, September 15, 2021
How to get Jedi Knight / Mysteries of the Sith running on Windows 10 - Brian @ 8:19 am

Andrew L made some youtube videos showing how to get Jedi Knight and Mysteries of the Sith running on Windows 10:


Thanks Andrew L!
Wednesday, September 1, 2021
Massassi Madness Downloads Fixed - Brian @ 10:50 pm

Kir Kanos notified me in discord that both download links in the Massassi Madness category were broken. They are now fixed so you can watch A Killing in the Woods and the Burning Sticks Trailer if you're so inclined.
Official Massassi Discord - Brian @ 10:25 pm

Massassi now has an "official" Discord server. Come say hi! Official Massassi Discord forum thread.
Fixed some level/mod downloads - Brian @ 12:39 am

While preparing for some site technology updates I fixed quite a few download links. These should all work now:
Announcing Jedi Knight & MotS 3D Preview - Brian @ 2:34 pm

Thanks to a very generous contribution to Massassi by Stephan Reiter, all our Jedi Knight and Mysteries of the Sith level pages now feature a 3D Preview! This lets you poke around the levels in 3D without having to load the game. In fact, you don't even have to have the game installed.

Stephan has made the code open source so anyone can contribute and/or use it on their own. The code can be found here: jkview on Github.

Here's an example of the 3d preview in action: MLP3.
New Jedi Knight Single Player Level: Take-Off: Destiny of Alderaan 2: The Sole Jedi - Brian @ 10:14 pm

File: Take-Off: Destiny of Alderaan 2: The Sole Jedi
Author: FastGamerr
Description: As the last Jedi on Alderaan, eliminate the Imperials in the area to escape the planet before its destruction. NOTE! When playing on the Hard difficulty, the human enemies will be stormtroopers with raildets. Cheers!


Wednesday, August 15, 2018
Nikumubeki and Eversor Asked For This - Brian @ 8:33 pm

Nikumubeki asked me to copy over some old stuff to the Massassi server. And Eversor demanded I update the main page. Here it is.

SINE - Screenshots of a level Sine_Nomen was working on before his computer crashed and everything was lost :(
JKL2OBJ - I'm not familiar with this, but the included tutorial video indicates that you can take a gob file and export the whole thing (jkl, referenced 3dos, textures, etc.) as an .obj file which can be used in 3dsmax
Sunday, December 11, 2016
2016 Holiday Logo Contest - Brian @ 9:43 pm

As has been an (almost) annual tradition since 1998, we are now running the Massassi Temple Holiday Logo Contest. Add your submission to the forum thread and it will be uploaded to the 2016 Holiday Logo list and will soon be rotated on our main page (and maybe the forums). I've always appreciated the work and creativity put into these logos and I'd love to see what everyone comes up with this year! Thanks as always.
Level Comments and Ratings are Back! - Brian @ 10:30 pm

You should now be able to once again leave comments and ratings on the level information pages. This requires a Massassi account. All old accounts still exist with the old passwords. At this point there is no way to change your password, reset your password, or retrieve your password. I'm working on change and reset password but it will probably be at least another week. However, the only thing we ask for is a username, email address, and password so please feel free to register a new account if you can't get into your old one. Or contact us and I can figure out a way to let you back into your account.

Please start by playing and leaving feedback for the Death of Massassi Level Pack. I'm sure the authors would appreciate it!
---
© Copyright 1998-2016 Brian E. Lozier and Contributors
Nothing on this site is made, distributed, or supported by LucasArts Entertainment Company or Disney. This site was created by and is maintained by fans of Star Wars and Star Wars gaming. Use and download all information/files at your own risk.